WE DON'T WANT TO MAKE A MOUNTAIN OUT OF A MOLEHILL BUT…
Given the elusive nature of moles, trapping is a difficult and tedious process better left to professionals
.  
What are Moles?
When you see a series of 3- to 5-inch round, raised ridges breaking the surface of your lawn that is accompanied by tiny dirt volcanoes, you know you have moles tunneling below ground.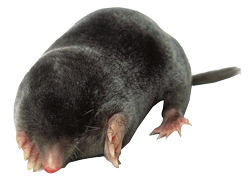 Moles cause little damage to the environment at large. Plus, they naturally aerate soils and eliminate the larvae of destructive insects. They only become a problem when they invade lawns and gardens, tearing up expanses of green grass and uprooting plants. Because mole tunneling destroys grass roots, the ridges brown quickly. The most effective way to get rid of moles is to kill them with a trap. Learn how to get rid of moles in your yard before they do extensive damage.
Damage
Do moles harm people or property?
Primarily carnivores that feast on earthworms, grubs, and other dangerous insect invaders, moles are generally beneficial, though their tunneling activities may become problematic. Their tunnels cause damage to lawns, gardens, golf courses, and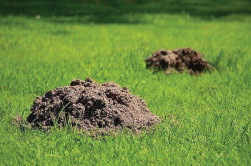 pastures. Though more an irritation than fiscally taxing, mole activity can turn grasses unsightly shades of brown and even prevent planted vegetation from becoming securely rooted into place. Moles may bite when handled by humans.

GreenItUp Lawncare possesses the proper tools, skills, and knowledge to combat mole problems efficiently and humanely.
We can help you get rid of mole problems.
Call today: